Cimgo outing (all-terrain tandem)
❮ Back
Cimgo outing (all-terrain tandem)
with Samoens Handi-Glisse
Whether or not you love tandem skiing in winter, would you like to enjoy a similar activity once the snow has melted? Now you can, thanks to the Cimgo (an all-terrain tandem)!
A Cimgo takes you along all types of path, however steep, to see places that, until now, were inaccessible. Admire the scenery, the flora and fauna. Breathe in the fragrances of the woodland or accompany your mountain biking friends.
Let us be your guides!

As the Grand Massif skilifts are open in summer, we can now take the Cimgo across a wide area with magnificent views of Mont Blanc.

Customised full-day or half-day programmes to suit you including exploration of other mountain ranges, specific routes, multi-activity weekends etc.

Want to enjoy something different? Why not spend a night in a mountain hut, watch a superb sunset over Mont Blanc and enjoy the descent on the following day. We can organise it for you.
Bons plans
Possibility of descents with a 1,400 metre change in altitude
Dispositions spéciales COVID 19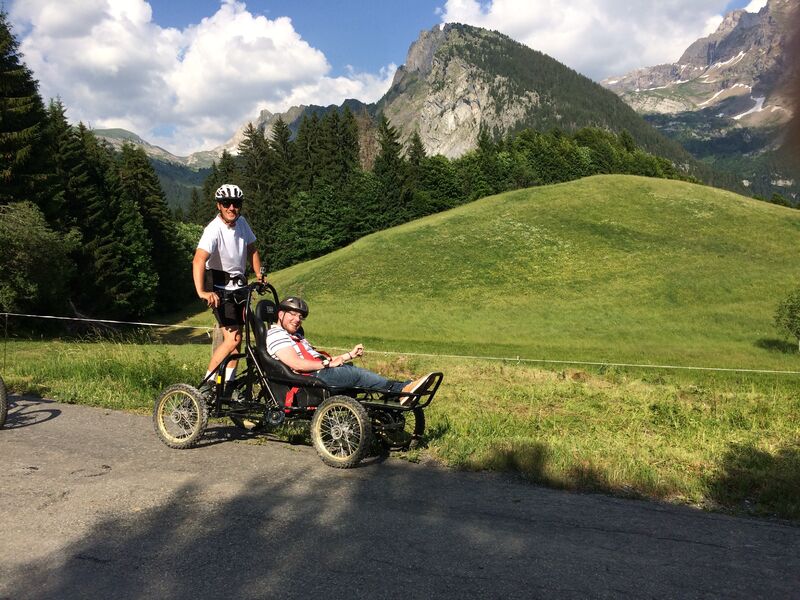 Cimgo outing (all-terrain tandem)


, Les Vallons
74340 Samoëns
Array
(
    [0] => Array
        (
            [identifiant] => 11476382
            [dateDebut] => 2021-05-01
            [dateFin] => 2021-09-30
            [tarifs] => Array
                (
                    [0] => Array
                        (
                            [devise] => EUR
                            [minimum] => 60
                            [precisionTarif] => Array
                                (
                                    [libelleFr] => Nous consulter. 
Tarif en fonction de la durée de la sortie.
                                )

                            [type] => Array
                                (
                                    [elementReferenceType] => TarifType
                                    [id] => 1733
                                )

                        )

                )

            [type] => Array
                (
                    [elementReferenceType] => TarifTypePeriode
                    [id] => 1304
                )

        )

)

Opening

From 01/05 to 30/09, daily.
Please contact us.

Payment
Adult: from 60 €.

Payment methods :

Cheque

Cash